If you follow my blog, you would know that I recently got myself a new phone. The Google Nexus 5 to be exact. Now the differences between the Galaxy Nexus (my original android phone) and my current Nexus 5 by LG are slight and almost unnoticeable. The first of which is of course the new Nexus 5 runs Android KitKat (4.4) where as the Galaxy Nexus stopped at Jelly Bean (4.3) due to the manufacturer of the chips hoping out of the mobile game – Thank you for that Texas Instruments (link to article).
Two of the most notable changes when I first turned on my phone was that the default Gallery app had been replaced by Google Photos and Messaging had been replaced by Google Hangouts. Neither change I was impressed with. Luckily restoring my apps gave me back Gallery, and I was able to find a port over of Messaging.
Now I have gotten used to Google Photos, its pretty cool and arranges things a little differently than Gallery, but its not half bad. And although it is not the direct cause of the "Auto Awesome" it was because of it that I found out about it. In the settings I enabled "Auto Backup" as I spent quite a lot of time moving my photos from one system to another (You see I am a bit of a photo buff and love snapping pictures). What I wasn't prepared for though, what getting random notifications of Google messing with my photos.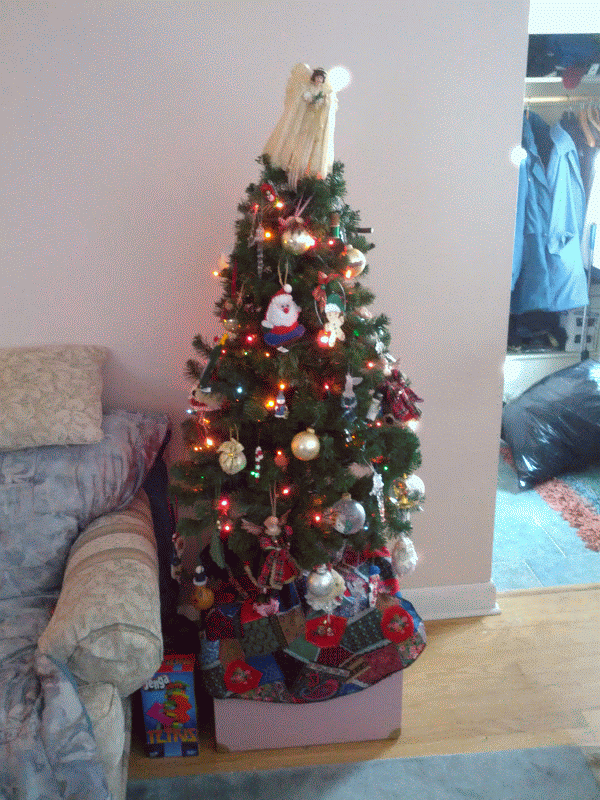 The first notification to come in was of a photo I took from my work of the street below after a snow fall. Google decided to add Snow to it, however I deleted it as I had no idea what was going on. Subsequently every time I try and get it back, it tells me it already exists. The second notification I got was of a picture I took of our Christmas Tree at my Mom's house over the holidays (click the thumb tot he left to see full size) in which you can see the little lights flicker, as well as the closet (not exactly accurate).
Then over the next 24 hours I got a bunch more… at first I thought it was cute, then I realized it was going through EVERY photo I had taken and started to Automatically create animated GIFs… It started to get a little annoying.
Now this Auto Awesome feature has been around since sometime last year, and its not part of Google Photos as I had originally thought (although they do go hand in hand), seems Google likes to play with images that are auto backed up. Below you will find the text from Google's Help site explaining Auto Awesome:
Auto Awesome creates fun new versions of your photos and videos. Auto Awesomes are generated automatically when photos and videos you upload to Google+ match certain criteria. You can upload photos manuallyor use Auto Backup, which automatically backs up photos and videos from your mobile device to Google+ (and they will be private unless you choose to share them). You'll know when an Auto Awesome photo or movie has been created by the icon.

Photo effects

Eraser – If you take a sequence of 3 or more photos in front of a structure or landmark with movement in the background, Eraser will give you a photo with all the moving objects removed. It's helpful for those situations when you're trying to get a great shot of a landmark or other crowded place, but want to avoid including all of the people in the background of your photo.

Action – Take a series of photos of someone moving (dancing, running, jumping) and Auto Awesome will merge them together into one action shot where you can see the full range of movements in a single image, capturing the movement in one captivating still.

Pano – If you've taken a series of photos with overlapping landscape views, Auto Awesome will stitch these photos together into a panoramic image.

HDR – High Dynamic Range is the process of taking multiple exposures of the same image. By merging these images together, your photos will achieve a greater range of shadows and light. Uploading three similar images at different exposures–low, medium, and high exposure–will create an HDR image for you.

Motion – If you've taken a series of photos in succession (at least 5), Auto Awesome will stitch these photos together into a short animation.

Smile – If you've taken a few group photos, Auto Awesome will choose the best shots of each person in your image and merge them into one great looking photo.

Mix – If you've taken a series of portraits sharing similar background elements, Auto Awesome will compile these photos together into a photobooth style grid. Mix is meant to showcase portrait photos taken with similar backgrounds in time, so it works best with close-ups of faces.

Movies

You can create Auto Awesome movies from the Google Photos app for Android, which are short films created automatically by editing together the videos and photos you capture around an experience. Choose the photos and videos you wish to make into an Auto Awesome movie, and let Google do the rest. You can change the theme, style, background music, or even remove, shorten, or re-order scenes. After your movie is created, you can choose to share or save it. Auto Awesome movies are currently only available for some devices running Android 4.3 and up, including the Nexus 4, Nexus 5, Nexus 7 (2013), Nexus 10, HTC One, Samsung Galaxy Note 3, Moto X, and Moto G.

Turn Auto Awesome on or off

Open Google+ . Place your cursor in the top left corner for the Google+ main menu. Click Settings > check the box next to "Create awesome new photos and videos for you" to turn it on or uncheck it to turn it off. Auto Awesome is on by default.
I was glad to read about the last part, the fact that you can turn it off. For now though I am thinking of leaving it on, after reading about some of the effects, I wanna test it out a little more. I am impressed by the photos Google created for me, and was a bit overwhelmed at first as it was going though the hundreds of photos I have already taken.